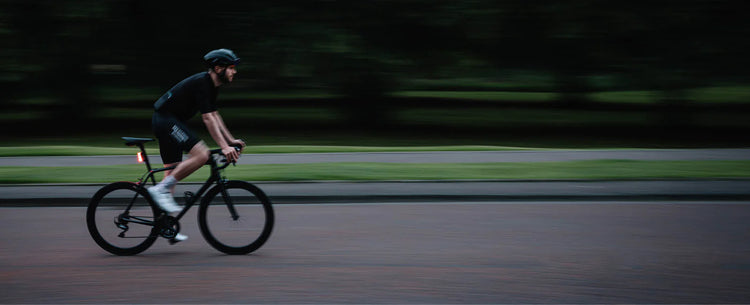 RETURNS, SERVICE & WARRANTY
Returns & Refunds
To return a product it must be unused, complete and in its original condition as to be resellable at full price including all of its original packaging. We must receive it back within 28 days of being signed for and you must have authorisation from us to return the product. Please make sure you enclose a covering note stating your returns number which we will provide, full name, address, order number and a brief note stating the reason for the return.
It is your duty of care to ensure the return is packed as received (outer and internal packaging) with the parts secured to avoid any damage in transit. If a product is received back with extra damaged we will not refund the full amount.
All refunds must be returned by original purchaser of goods to avail of refund.
Keep hold of the original packaging until you're fully satisfied with your purchase as it will be needed if a bike / product is to be returned.
Please see pictures below of how the bike must be packed to avoid damage on the return shipment, the front wheel, seat post and handlebars must be securely attached to the frame to avoid movement in transit.
In the unlikely event your bike has a missing or damaged part please contact us at info@cyclego.ie within 72 hours of delivery giving as much detail as possible, so we can look to resolve the issue to your full satisfaction without returning the bike.
PLEASE NOTE: All bikes are supplied in the manufacturers export carton. Potentially, slight marking could happen in transit as these are bulky items and this does not warrant a refund in and of itself.
If any goods are returned unwanted or incorrectly ordered by you, we will either exchange or refund (subject to a 15% restocking and handling fee) provided that all goods are returned in a perfect, resaleable condition within 7 days. However, no carriage refunds can be given.
When returning any item for any reason it is your responsibility until they are delivered to us. We cannot be held responsible for any lost or damaged items whilst on their way to us. Ensure you send using a tracked service and with cover against loss or damage to protect yourself.
If you wish to make a return please email us at info@cyclego.ie clearly stating which item you are returning, the reason and the action you would like us to take. If you request a refund then the amount paid will go back onto your original payment card or cash if you paid in-store.
CycleGo does not offer a free returns service. You will be responsible for the costs of returning an unwanted item. If the item you are returning is faulty or was incorrectly supplied we will arrange collection using our transport partner. You can also return the item to our store at 47 Upper Clanbrassil Street, Dublin 8.
It will always be our first priority to try and rectify the issue you may have rather than take the bike back.
CycleGo cannot be held responsible for any unwanted returns parcel lost in the post, therefore we advise you use a 'Signed for" service. Ensure you are adequately covered in the unlikely event of your parcel going missing in transit.
Warranty
CycleGo offers a 1-year warranty (lifetime for Martello bikes) on the frame and fork against all defects, construction flaws and craftsmanship to the original owner from date of purchase under normal use, such as commuting. Non-consumable parts i.e. tyres, tubes, saddle, handlebars, grips, rims, paint, brakes etc. are not covered under this warranty. All cosmetic damage (scrapes, chips, bumps) caused by impacts, or faded colours caused by overexposure to direct sunlight will not be covered under the warranty.
There is a six month (180 days) warranty for all new bikes on consumable parts i.e saddle, handlebars, grips, rims, brakes etc. against all defects, construction flaws and craftsmanship to the original owner from date of purchase under normal use. This warranty excludes tubes, tyres, and brake pads.
All goods supplied by CycleGo.com are from official sources and are covered by the normal manufacturers' warranty.
Generally speaking, warranties cover manufacturing faults and defects but do not cover damage caused by crashing, abuse, stunts and general wear and tear. It is your responsibility to ensure bikes are built correctly and well maintained with regular servicing as brake and gear cables will stretch over time with use, so will need adjustment to keep them running smoothly. A bike should be serviced regularly and we strongly recommend this is every 3 months to maximise the life of moving parts. The first service must be within the first 3 months of ownership and proof will be needed to support any warranty claim. If an item has failed prematurely please contact us with details of the product and fault. Certain products may need to be returned to our supplier, for inspection and possible repair, before a credit can be issued.
Claims should be sent to info@cyclego.ie. We reserve the right to request photographs of any damage along with detailed information about the issue and may only replace the damaged part, rather than the entire bicycle. We also reserve the right to refuse the claim if we feel the bike has been subjected to abnormal use.
This warranty applies to the original purchaser only and proof of purchase may be requested. CycleGo is not responsible for any shipping or labour charges or fees relating to warranty claims. We will always do our best to take care of you, and resolve any issues or problems that you may be having with our products.
Warranty claims will only be accepted if:
The claim is from the original owner and is supported by proof of purchase
The bicycle has only been used for its intended purpose and has not been fitted with anything other than original spare parts and accessories
A first service has been performed by a professional bicycle mechanic within 6 months of purchase
The bikes suspension system was serviced by an authorised Merida dealer at least once per year
This warranty does not cover:
Normal wear and tear
Damage caused by accidents, neglect or abuse
Improper assembly
Improper follow up maintenance
Modification or alteration of the frame or original components
Direct, Incidental or consequential damages, including damages for personal injuries, property damage or economic loss
Labour charges for part replcement or changeover
Transport charges for replacement parts
Recommend Service & Maintenance:
 

EVERY RIDE (A SAFETY CHECK)

MONTHLY (OR 500 MILES)

SIX MONTHS (OR 2,500 MILES)

check tire pressure. if it's low (if the tire feels "squishy"), fill to the correct PSI – which is listed on side of your tire.

clean bicycle frame with a cloth. inspect frame and components for signs of wear, such as cracks or dents.

clean and wax the frame to protect the paint/finish. once it's clean, inspect bike frame and fork for any cracks or dents.

check all bearing systems: hubs, bottom bracket, headset and pedals. adjust and/or overhaul as needed, based on their condition.

glance over the tire tread on both tires for embedded debris, to avoid getting a flat.

wipe the chain and cassette cogs clean with a rag + earth-friendly degreaser. re-lube chain, casette.

check tires for wear such as dry rot or areas where tread is now too worn. replace if cracks or wear are significant. check your spare tube and patch kit: make sure the spare still holds air and the patch kit has glue + patches.

check all brake and gear cables + cable housing for fraying, breakage, rust, corrosion. replace if necessary.

if you have quick release parts (such as wheels or seats, instead of nut/bolt), check that they are tight and that the wheels are secure

check the wheels for loose spokes. if the spokes are loose, you may need to replace them. (this is pretty inexpensive.)

check the condition of hubs, bottom bracket, headset. adjust and/or overhaul as needed.

replace brake pads, rubber brake hoods and handlebar tape if necessary

spin wheels to check for wobbles. if the wheel wobbles (instead of rolling smoothly), this indicates that you need to have your wheel trued

using a wrench, test the tightness of the moving and connecting parts: crankarms, pedals, chainring bolts, seat bolt, seatpost bolt, stem bolts, handlebar bolts and all accessory mounting bolts/screws. you are checking to be sure all parts connect properly.

check all cables and housings for fraying, breaks, rust and corrosion and replace if necessary

clean and check wheels carefully for signs of wear such as worn sidewalls or cracks where the spoke touches the rim or hub

squeeze brakes to make sure they're grabbing glance over brake pads to see that they are in good condition and that they touch the rims (not the tires!)

lube the brake, derailleur and pedal pivot points.

check for worn brake pads and replace if needed; also replace worn handlebar tape or grips

check the hubs, bottom bracket, headset: adjust and/or overhaul as needed

if you have a mountain bike, push down on (compress) and release the bike's suspension to be sure that it's responding properly

lube the brake and gear cables to prevent binding. check the cables for fraying and rusting. replace if necessary

check for chain, cassette cog and chainring wear and replace worn parts as needed

overhaul the pedals to check the bearings and add fresh grease. (this can be tricky!) if you're using toe straps, check them for wear and replace if needed.

look over the bike chain. add chain lube if it looks dry.

check clipless pedals and cleats for loose screws/bolts

clean the drivetrain (chain, chainrings, cassette, front and rear derailleurs) with biodegradable solvent and rags

maintain and lube your suspension components according to the advice in the owner's manual

make sure you are prepared with tools (a spare tube and/or patch kit, tire levers and a pump), in case you encounter a flat while riding. or, that you are close to a bike shop who can do it for you.

if you have a mountain bike, maintain and lube your suspension

if you have a mountain bike, maintain and lube your suspension components

lube your frame and home tire pump check basket, racks and accessories – be sure attachments and bolts seem in OK condition.